Custom Imprinted Promotional Erasers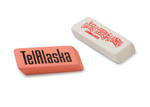 Rectangular Erasers
Ageless design, this eraser is a must have for home or the office.
Colors Available: Off-White, Eraser Red
Item Size: 2 3/8" x 1 1/8"
Imprint Area: 1 3/4" x 3/4"
Extra Charges: Set-up from your artwork or straight-line copy: $20.00
Item #
Description
150
250
500
1000
2500
C-RCERA
Rectangular Eraser
0.85
0.60
0.48
0.45
0.41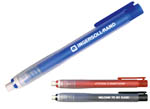 Push Stick Erasers
Classic push action style

Double-barrel design

Translucent outer barrel

Frosted colored inner barrel & clip

5" white eraser

Ribbed grip area
Pricing Includes: a one-color imprint on the barrel.
Item Colors: Red, Blue, Trans. Black.
Imprint Area: 2" W x 7/16" H
Imprint Colors: White, Black, Red, Lt. Blue, Dk. Blue, Lt. Green, Dk. Green, Orange, Maroon, Brown, Yellow, Purple, Teal, Gold, Silver. White is recommended.
Setup: Add $30.00 for new orders. No set-up charge on exact reorders.
Multi-Color Imprint: Add $25.00 set-up charge per color, plus $.10 running charge per eraser, per color. 250 pc. minimum.
Ink Color Match: Not Available
Additional Artwork: $50.00 per hour.
Change Copy: $25.00 per change.
Change Ink: $25.00 per change.
Proof: E-Proofs $10.00 each. Paper proofs $12.50 each. Product proofs $25.00 each, per color. Artwork charges are additional if required.
Less Than Minimum: $ 40.00 Absolute minimum is one-half of the lowest catalog quantity.
Packaging: Bulk packed.
Weight: Approx. 34 lbs./M.
Fuel Surcharge: (In addition to freight charges) There is a surcharge of 8.5% on Ground Shipments and a 28% on Air Shipments.
C-02050
150
250
500
1000
2500
Standard
1.05
.84
.73
.70
.68
Feel free to browse the products on this website and give us a call at (800) 915-3535! Our friendly customer service representatives are ready to help you get the promotional pencils and pens that you need to make your next advertising camping a huge success! Want more information? Click the button below to request a free catalog on some of the products we offer!
Office: 1505 Corporate Woods Pkwy. Suite 500
Uniontown, Ohio 44685
Fax #: (330) 899-0407